$17.99
AUD
Category: Junior Fiction | Series: Morrigan Crow
Morrigan Crow and her friends have survived their first year as proud scholars of the elite Wundrous Society, helped bring down the nefarious Ghastly Market, and proven themselves loyal to Unit 919. Now Morrigan faces a new, exciting challenge: to master the mysterious Wretched Arts of the Accomplished Wundersmith, and control the power that threatens to consume her. Meanwhile, a strange and frightening illness has taken hold of Nevermoor, turning infected Wunimals into mindless, vicious Unnimals on the hunt. As victims of the Hollowpox multiply, panic spreads. There are whispers - growing louder every day - that this catastrophe can only be the work of the Wundersmith, Ezra Squall. But inside the walls of Wunsoc, everyone knows there is a new Wundersmith - one who's much closer to home. With Nevermoor in a state of fear and the truth about Morrigan threatening to get out, the city she loves becomes the most perilous place in the world. Morrigan must try to find a cure for the Hollowpox, but it will put her - and everyone in Nevermoor - in more danger than she could have imagined. ...Show more
$17.99
AUD
Category: Teenager's | Series: Gilded
"Namina Forna Could Be The Toni Morrison Of YA Fantasy."-Refinery 29 The start of a bold and immersive West African-inspired, feminist fantasy series for fans of Children of Blood and Bone and Black Panther. In this world, girls are outcasts by blood and warriors by choice.   Sixteen-year-old Deka liv es in fear and anticipation of the blood ceremony that will determine whether she will become a member of her village. Already different from everyone else because of her unnatural intuition, Deka prays for red blood so she can finally feel like she belongs.   But on the day of the ceremony, her blood runs gold, the color of impurity-and Deka knows she will face a consequence worse than death.   Then a mysterious woman comes to her with a choice: stay in the village and submit to her fate, or leave to fight for the emperor in an army of girls just like her. They are called alaki-near-immortals with rare gifts. And they are the only ones who can stop the empire's greatest threat.   Knowing the dangers that lie ahead yet yearning for acceptance, Deka decides to leave the only life she's ever known. But as she journeys to the capital to train for the biggest battle of her life, she will discover that the great walled city holds many surprises. Nothing and no one are quite what they seem to be-not even Deka herself. ...Show more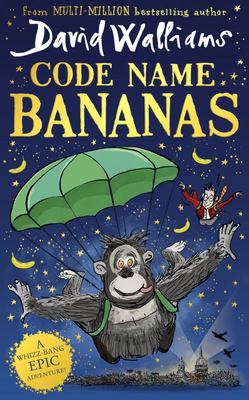 $22.99
AUD
Category: Junior Fiction
1940. Britain is at war with Nazi Germany. Eleven-year-old Eric spends his days at the place that makes him most happy: London Zoo. And there's one animal in particular he loves: Gertrude the gorilla. With bombs falling all over London, Eric must rescue Gertrude. Together with his Uncle Sid, a keeper at the zoo, the three go on the run. But while hiding out at the seaside they uncover a top-secret Nazi plot… Join David Walliams on this action-packed, laugh-out-loud adventure for all the family! ...Show more
$17.99
AUD
Category: Junior Fiction | Series: Supernatural Investigations
Amari Peters has never stopped believing her missing older brother, Quinton, is alive. Not even when the police told her otherwise, or when she got in trouble for standing up to bullies who said he was gone for good. So when she discovers a ticking briefcase in his closet containing a nomination for a summer tryout at the Bureau of Supernatural Affairs, she's certain the secretive organisation holds the key to locating Quinton – if only she can wrap her head around the idea of magicians, fairies, aliens, and other supernatural creatures all being real. Now she must compete for a spot against kids who've known about magic their whole lives. No matter how hard she tries, Amari can't seem to escape their intense scrutiny and doubt – especially once her own supernaturally enhanced talent is deemed 'illegal'. With an evil magician threatening the supernatural world, and her own classmates thinking she's an enemy, Amari has never felt more alone. But if she doesn't stick it out and pass the tryouts, she may never find out what happened to Quinton ... Harry Potter meets Men in Black in this exhilarating debut middle-grade fantasy, the first in a trilogy filled with #blackgirlmagic. Perfect for fans of Tristan Strong Punches a Hole in the Sky, the Percy Jackson series and Nevermoor. ...Show more
$19.99
AUD
Category: Children's Activities
A bumper book of maths fun stuffed with things to draw, puzzle, invent, order, unscramble, code, decode for kids aged 7+ years from Australia's best known maths man. There's magic in maths - if you know where to look...
$24.99
AUD
Category: Australian Picture Books | Series: World of Claris
Meet Oli and Basil, the dashing frogs of travel, in Megan Hess's first World of Claris story!   Two frogs dream of flying, but don't realise that they'll need each other to take to the skies ...   Oli is an artist who dreams up wild, fabulous machines, but he doesn't know how to build them. And Basil is a master craftsman who can build anything from scratch - except he doesn't know what to build.  If only there was a way that these two dashing frogs could become friends ... From the beloved creator of the Claris stories comes this heart-warming adventure about the joys of newfound friendship. The first World of Claris adventure from beloved children's author Megan Hess. Destined to delight fashion-obsessed readers of all ages!   ...Show more
$16.99
AUD
Category: Board Books
Bluey wants to play Mum School instead of having her bath. But will the kids listen to her? A gorgeous hardback book for kids of all ages. Bluey has been a phenomenal success since airing on ABC KIDS in October 2018, amassing legions of dedicated fans and hugely popular ranges of books, toys, clothes, g ames and more. It holds the coveted position of being the most watched program ever on ABC iView, with over 260 million plays for Series One, and is the winner of an International Emmy for Most Outstanding Children's Programme.   ...Show more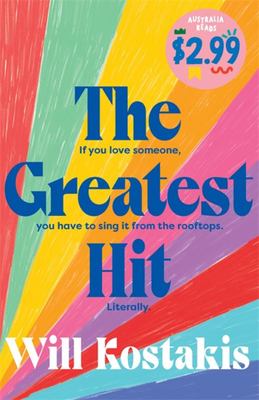 $2.99
AUD
Category: Teenager's
When you love somebody, you have to sing it from the rooftops, literally. But can Tessa reveal the truth behind the viral music video that made her internet-famous? An exclusive story for AUSTRALIA READS. People look at Tessa and see her biggest mistake. While everyone else her age is taking their bold first steps into adulthood, she's just trying to outrun a song that went viral when she was fourteen. But now - an opportunity. A profile as one of The Five Most Forgettable Internet Celebrities of the Decade So Far gives her the chance to right a wrong, and the courage to sing her greatest hit as it was originally written. But will it be enough to win back the person she hurt? An exclusive story for AUSTRALIA READS from one of Australia's leading YA writers. ...Show more
$15.99
AUD
Category: Junior Fiction
There's a new kid at Shipwreck Primary! But there's also something fishy about her. Can Finn the Shark and his buddies work out who she is, and could she possibly be the answer to their problems with Blake the bully? With Great White Shark teachers, treacherous undersea races and dangerous fishermen nea rby, it's never a dull moment in this School of Fish! An hilarious new underwater graphic novel. It will have you hooked!   ...Show more
$14.99
AUD
Category: Junior Fiction | Series: ROBIN HOOD
Robin and Marion are back! Second in the brand-new, action-packed series from international bestseller Robert Muchamore. 'Strikes the bullseye.' - The Times  
$16.99
AUD
Category: Junior Fiction | Series: Tom Gates
The brand new bestseller from multi-million copy selling author and illustrator Liz Pichon. A laugh-outloud, fully illustrated collection of stories starring Tom Gates and his friends, family and foes!  
$16.99
AUD
Category: Junior Fiction | Series: Keeper of the Lost Cities
A New York Times bestselling series. A USA TODAY bestselling series. A California Young Reader Medal-winning series. In this riveting series opener, a telepathic girl must figure out why she is the key to her brand-new world before the wrong person finds the answer first. Twelve-year-old Sophie has neve r quite fit into her life. She's skipped multiple grades and doesn't really connect with the older kids at school, but she's not comfortable with her family, either. The reason? Sophie's a Telepath, someone who can read minds. No one knows her secret--at least, that's what she thinks...   But the day Sophie meets Fitz, a mysterious (and adorable) boy, she learns she's not alone. He's a Telepath too, and it turns out the reason she has never felt at home is that, well...she isn't. Fitz opens Sophie's eyes to a shocking truth, and she is forced to leave behind her family for a new life in a place that is vastly different from what she has ever known.   But Sophie still has secrets, and they're buried deep in her memory for good reason: The answers are dangerous and in high-demand. What is her true identity, and why was she hidden among humans? The truth could mean life or death--and time is running out. ...Show more