$49.99
AUD
Category: Non-Fiction | Series: Good Night Stories for Rebel Girls
The latest installment in the New York Times bestselling Good Night Stories for Rebel Girls series, featuring 100 immigrant women who have shaped, and will continue to shape, our world. Good Night Stories for Rebel Girls: 100 Immigrant Women Who Changed the World is the third book in the New York Times bestselling series for children. Packed with 100 all-new bedtime stories about the lives of incredible female figures from the past and the present, this volume recognizes women who left their birth countries for a multitude of reasons: some for new opportunities, some out of necessity. Readers will whip up a plate with Asma Khan, strategize global affairs alongside Madeleine Albright, venture into business with Rihanna, and many more. All of these unique, yet relatable stories are accompanied by gorgeous, full-page, full-color portraits, illustrated by female artists from all over the globe. ...Show more
$19.99
AUD
Category: Non-Fiction
Professor Terry Denton talks you through all you need to know about Earth, Life, the Universe and EVERYTHING (almost). Sure to engage anyone from the ages of 8 to 80 (and beyond), this is a funny, fascinating whistle-stop tour of the history and science of the universe, life on Earth, the ins and outs of biology, geography, geology and the weather, how life evolved and how it works, and how people use the forces of nature around us to create amazing things. There's even a chapter on time! Get ready to laugh and be amazed at the world around you and within you. ...Show more
$49.99
AUD
Category: Non-Fiction | Series: Good Night Stories for Rebel Girls
The beloved New York Times bestsellers and Kickstarter crowdfunding sensations are available on audio for the first time, read by a star-studded fierce female cast including Alicia Keys, Ashley Judd, Danai Gurira, Esperanza Spalding, Janeane Garofalo, Mozhan Marn , Phillipa Soo, Rowan Blanchard, and Sam ira Wiley   Good Night Stories for Rebel Girls, Books 1-2 is packed with 200 bedtime stories about the lives of extraordinary women from the past and present, from Elizabeth I to Beyonc . Painters, scientists, dancers, chefs, astronauts, jazz singers, pharaohs, boxers, writers, political leaders...from every corner of the globe Each short biography is written in the style of a fairy tale, filling listeners with wonder and with a burning curiosity to know more about each hero.Good Night Stories for Rebel Girls, Books 1-2 will inspire young girls (and their mothers, their aunts, their cousins...) to be confident, to dream big, to cultivate their strength. Trade in princesses for presidents. Swap out Cinderella for Cleopatra tonight.Includes a PDF of two written exercises: "Write Your Story" & "Draw Your Portrait"   ...Show more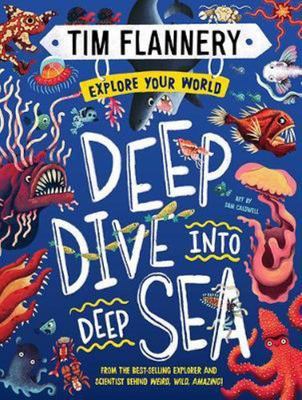 $26.99
AUD
Category: Non-Fiction | Series: Explore Your World
Get ready to dive into the darkest depths of the sea with real-life explorer and scientist, Professor Tim Flannery. You might think you know about the ocean, but the deep sea is nothing like the beach. Things are WEIRD down there.  Who is the giant squid's mortal enemy? Can you see ghosts in the deep se a? Why would a sea cucumber have teeth on its butt? And what on earth is a headless chicken monster? Put on your SCUBA gear - you're about to find out!   From the author of the best-selling Explore Your World: Weird, Wild, Amazing!, this compendium will enthral and enlighten readers with bizarre facts and vibrant illustrations of the most incredible creatures hiding in the deep sea. Prepare to gasp, laugh and squirm in disgust! ...Show more
$26.99
AUD
Category: Non-Fiction
Now you see them, now you don't! Cloaked in a riot of colour, pattern and texture are a dozen animals - from chameleons and polar bears to Gaboon vipers and mimic octopuses - that have mastered the art of fading into the background. Fact-packed pages segue into clever and beautifully illustrated seek-a nd-find spreads that put readers' newfound knowledge of each creature and its ecosystem to the test. Marc Martin jets budding conservationists around the world and shows them the secrets of animal camouflage. A perfect gift for animal lovers. ...Show more
$29.99
AUD
Category: Non-Fiction
What's important is our story, our whole story, including those moments when we feel a little vulnerable . . . Michelle Robinson started life sharing a bedroom with her older brother Craig, in their family's upstairs apartment in her great-aunt's house. Her parents, Fraser and Marian, poured their love and energy into their children. She would go on to become Michelle Obama, the inspirational First Lady of the United States of America.Now adapted for younger readers, with new photographs and a new introduction from Michelle Obama herself, this memoir tells a very personal, and completely inspiring, story of how, through hard work and determination, the girl from the South Side of Chicago built an extraordinary life. A tale of ups and downs, triumphs and failures, this is an incredibly honest account. It'll take you from the early years - first kiss, first school, first love - to the wonders of the White House, and the moment Mrs Obama shook hands with the Queen of England.A book to read, share, and talk about with the adults in your life, this is a call to action and compassion, and hope for change in uncertain times, and in a scary world.You'll be inspired to help others, and understand that no one is perfect. Just like Michelle Obama, you too are finding out exactly who you want to be (and, actually, so are the adults in your life).Above all, it is a book to make you think- who are you, and what do you want to become? ...Show more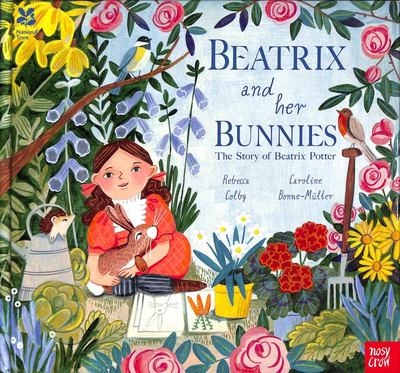 $24.99
AUD
Category: Non-Fiction
Published in collaboration with the National Trust, this is a moving and inspiring picture book based on the life of Beatrix Potter. Beatrix loves the countryside, but lives in a big, lonely house in London - if only she had a friend. Then she meets Benjamin Bunny and everything changes! They spend eve ry day together playing chase and follow my leader. But when Benjamin dies, Beatrix is heartbroken. She decides to write about Benjamin's adventures and about her new bunny, Peter, who plays the tambourine and jumps through hoops. If she can publish her stories, she knows children will fall in love with Benjamin and Peter, and her bunnies will live forever. This is the perfect gift for fans of Peter Rabbit, for young environmentalists and for animal lovers everywhere. Rebecca Colby effortlessly entwines the fascinating threads of Beatrix Potter's life: her deep connection with animals, her development as a writer and artist, her determination to be published and her role as a pioneering conservationist.   ...Show more
$29.99
AUD
Category: Non-Fiction
Did you know that feeding seaweed to cows can reduce the methane in their burps and farts by more than half? Or that a forest of kelp absorbs more carbon than a tropical rainforest of the same size? We can even make edible bioplastics from seaweed! Beyond the tideline, there are around 10,000 types of seaweed. An essential ingredient for life on Earth, seaweed has sustained animals and people for many thousands of years. From ancient history and mythology to modern uses in food, health and medicine, discover how seriously cool seaweed is, and how it can even help tackle climate change. Complete with a guide to common seaweeds and foraging guidelines, this charmingly illustrated picture book will educate and inspire, and encourage respect for the natural world. ...Show more
$29.99
AUD
Category: Non-Fiction
Did you know that there are plants that eat insects? Plants whose seeds spread in poo? Plants that move when you touch them? And plants that grow on other plants? Plantastic presents 26 of Australia's most unique and incredible native plants. Discover and identify native plants found in your local park, bushland, or even in your very own backyard. With its perfect balance of fun facts, activities, adventurous ideas and gorgeous illustrations, Plantastic will prove just how fantastic Australia's native plants really are Features: Full of interesting facts about Australian native plants that will get kids excited about the plant world and gently introduce general scientific concepts.Provides a Plantastic Activity for each featured species to encourage kids to search for and engage with the plants in their local area.Explains traditional Indigenous uses for some plants - including hunting, fishing, building and medicine.Includes common plants with wide distributions so that kids can discover more about their local flora, no matter where they live in Australia.The bright and beautiful illustrations will help kids easily recognize the plants from this book out in the wild.   ...Show more
$19.99
AUD
Category: Non-Fiction
What could we clever humans ever learn from trees? Take an unashamedly anthropomorphic wander through the woods to learn a few life lessons from our foliaged friends.
$39.99
AUD
Category: Non-Fiction | Series: Good Night Stories for Rebel Girls
The beloved New York Times bestsellers and Kickstarter crowdfunding sensations are available on audio for the first time, read by a star-studded fierce female cast including Alicia Keys, Ashley Judd, Danai Gurira, Esperanza Spalding, Janeane Garofalo, Mozhan Marn , Phillipa Soo, Rowan Blanchard, and Sam ira Wiley   Good Night Stories for Rebel Girls, Books 1-2 is packed with 200 bedtime stories about the lives of extraordinary women from the past and present, from Elizabeth I to Beyonc . Painters, scientists, dancers, chefs, astronauts, jazz singers, pharaohs, boxers, writers, political leaders...from every corner of the globe Each short biography is written in the style of a fairy tale, filling listeners with wonder and with a burning curiosity to know more about each hero.Good Night Stories for Rebel Girls, Books 1-2 will inspire young girls (and their mothers, their aunts, their cousins...) to be confident, to dream big, to cultivate their strength. Trade in princesses for presidents. Swap out Cinderella for Cleopatra tonight.Includes a PDF of two written exercises: "Write Your Story" & "Draw Your Portrait" ...Show more
$19.99
AUD
Category: Non-Fiction | Series: Lift the Flap Questions and Answers
An appealing, lift-the-flap book that answers children's questions about science in an accessible, fun way. Inspired by the sort of questions young children ask, this is a great book to dip in and out of, with lots of quirky and interesting facts.