$29.99
AUD
Category: Travel
Anthony Bourdain saw more of the world than nearly anyone. His travels took him from the hidden pockets of his hometown of New York to a tribal longhouse in Borneo, from cosmopolitan Buenos Aires, Paris, and Shanghai to Tanzania's utter beauty and the stunning desert solitude of Oman's Empty Quarter - a nd many places beyond. In World Travel, a life of experience is collected into an entertaining, practical, fun and frank travel guide that gives readers an introduction to some of his favorite places - in his own words. Featuring essential advice on how to get there, what to eat, where to stay and, in some cases, what to avoid, World Travel provides essential context that will help readers further appreciate the reasons why Bourdain found a place enchanting and memorable. Supplementing Bourdain's words are a handful of essays by friends, colleagues, and family that tell even deeper stories about a place, including sardonic accounts of traveling with Bourdain by his brother, Chris; a guide to Chicago's best cheap eats by legendary music producer Steve Albini, and more. Additionally, each chapter includes sly, witty illustrations by cartoonist Tony Millionaire. For veteran travelers, armchair enthusiasts, and those in between, World Travel offers a chance to experience the world like Anthony Bourdain.   ...Show more
$34.99
AUD
Category: Travel Guides | Series: Travel Guide Ser.
Lonely Planet Best Day Walks Australia is your passport to 60 escapes into nature. Stretch your legs away from the city by picking a walk that works for you, from just a couple of hours to a full day, from easy to hard. Stroll vine-striped hillsides, discover hidden coastlines, or explore the Outback. G et to the heart of Australia and begin your journey now!   Inside Lonely Planet Best Day Walks Australia Travel Guide:  Colour maps and images throughout Special features - on Australia's highlights for walkers, kid-friendly walks, accessible trails and what to take Best for... section helps you plan your trip and select walks that appeal to your interests Region profiles cover when to go, where to stay, what's on, cultural insights, and local food and drink recommendations to refuel and refresh. Featured regions include: Sydney & Around, Byron Bay to the Sunshine Coast, The Daintree & the Far North, the Outback, The Kimberley & Pilbara, Southwest Forests to the Sea, Flinders to Fleurieu, Grampians to the High Country, the Prom to the Great Ocean Road, and Tasmania Essential info at your fingertips - walk itineraries accompanied by illustrative maps are combined with details about walk duration, distance, terrain, start/end locations and difficulty (classified as easy, easy-moderate, moderate, moderate-hard, or hard) Over 70 maps   The Perfect Choice: Lonely Planet Best Day Walks Australia, our most comprehensive guide to walking in Australia, is perfect for those planning to explore Australia on foot. Looking for more information on Australia? Check out Lonely Planet Australia guide for a comprehensive look at what the country has to offer.    ...Show more
$29.99
AUD
Category: Travel
We all have those bucket list destinations in Australia - the places in our own backyard that we plan to visit one day (before we kick the bucket, of course). Australia's Ultimate Bucket List is your guide to the most iconic and diverse destinations across this stunning country that you really should se e in this lifetime. The 100 destinations featured have been curated by Jennifer Adams and Clint Bizzell from Network Ten's popular travel show Places We Go. Through Jen and Clint's experience, and with the help of public voting on the Places We Go website, this list covers every state and territory. You'll find famous destinations as well as lesser known places, including the shifting colours of Uluru, the immense desert landscape of the Nullarbor, and the vast marine organism that is our Great Barrier Reef. Featuring beautiful photography from each location, and with a map of Australia to help you pinpoint each destination, this book is the perfect gift for every Australian. ...Show more
$39.99
AUD
Category: Travel Pictorial
From lap pools to ocean pools, harbour pools to waterfalls, Sydney is arguably the best major city in Australia for swimming, if not the world! And Places We Swim in Sydney covers the very best of the city's famous and hidden swimming spots. After the success of their first book, Places We Swim, author s Caroline Clements and Dillon Seitchik-Reardon have followed up with a deep dive into Sydney in this ultimate city guide to the aqueous outdoors. Places We Swim in Sydney is divided into six city regions, encompassing walks and swims within two hours of the CBD - from Manly in the north, to Maroubra in the east, Royal National Park in the south, and out to the Blue Mountains in the west. You'll discover just what makes each swimming spot unique, learn the best time to go, gain some useful local knowledge and find out the most delicious things to eat nearby. With destinations ranging from neighbourhood city pools to gorges that feel like the outback, Places We Swim in Sydney is a celebration of not just these magnificent swimming locations, but of the diverse landscapes and water-loving communities that make up Sydney.   ...Show more
$39.99
AUD
Category: Travel | Series: Ultimate Ser.
In Ultimate Campsites: Australia, Penny Watson maps out 75 of the country's most wild and wondrous nature-based campgrounds, from the turquoise and white sandy beaches of Queensland and pristine national parks of New South Wales, to the wineries of South Australia and the wilderness areas of Tasmania. Ever pitched a tent within a stone's throw of a picturesque waterfall? Ever woken up in a sleeping bag to the gentle sound of waves? Ever seen the sun go down in the desert or fallen asleep in an ancient rainforest? Well, now's the time to tick off these experiences on your camping bucketlist! Each state-by-state chapter in Ultimate Campsites: Australia contains detailed maps and the what-when-why-where information about each campground, alongside tips and anecdotes about the surrounding regions. You'll find special sections dedicated to remote-island campgrounds, as well as sites with great walks and places close by to Indigenous cultural experiences. There are also quick and easy lists for camping with pets, free camping, 4WD access and commercial campgrounds, and handy camping trail itineraries for when you want to tick off two or three campgrounds in one trip. This book is an essential tool for the glovebox, be it in a 2WD or a motorhome. It's also the kind of book that will get plenty of wear and tear on the coffee table while you're planning that next big adventure in Australia's great outdoors. ...Show more
$32.99
AUD
Category: Travel | Series: Woodslane Walking Guides
Sydney's Best Bush Park & City Walks includes over 50 walks throughout the Sydney basin. Each walk specifies the distance, the total ascent and descent, the grade and the estimated duration and is accompanied by an accurate full-colour map using latest GPS technology. Snippets about Sydney's history and the environment add colour and interest to the walking experience. Families will enjoy information regarding child-friendly walks, and how to explore the bush safely with children of all ages. Over 150 full-colour photos complement the text, and provide you with a clear sense of the features on each walk. This guide will help you discover many of Sydney's classic walks, as well as some wild and adventurous tracks that few know exist. ...Show more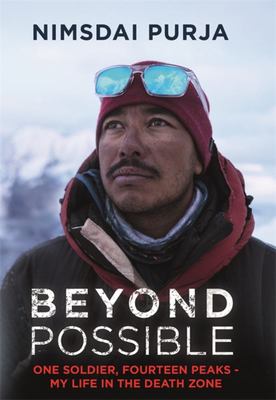 $32.99
AUD
Category: Travel
My comfort zone begins where most individuals quit. As a kid in Nepal, I went barefoot because my family had nothing. That's how I developed the resilience I needed for joining the Gurkhas - one of the most fearless forces in the British Army. Then against all odds, I became the first ever Gurkha soldie r in more than 200 years of history to join the Special Boat Service where I served in the some of the world's most dangerous warzones, kicking down doors to capture enemy gunmen and terrorist bomb makers. But elite combat wasn't enough. I wanted more of a test. That's where my next project came in, something nobody thought possible - to climb all fourteen "death zone" mountains in seven months. Fear became irrelevant because I had belief. In the death zone, I came alive. Beyond Possible: One Soldier, Fourteen Peaks - My Life In The Death Zone is the inside story of my incredible adventure.   ...Show more
$39.99
AUD
Category: Travel | Series: Ultimate Ser.
Australians have always loved a good road trip, whether it's a leisurely Sunday drive through wineries or to a beach near a major city, a quick weekend getaway into the mountains or roughing it on a remote outback track. And hitting the road is a great way to spend our holiday time with family and frien ds. In Ultimate Road Trips: Australia, author Lee Atkinson highlights 40 of the best driving holidays around the country. Each chapter includes information on things to see and do, detailed route maps and a handy list of distances to help you plan your trip, as well as lots of useful advice on family-friendly attractions, where to eat and the best hotels, guesthouses, caravan parks and camping spots. You'll also find details on the best time of year to visit, driving tips and a guide to surviving a road trip with a back seat full of kids. Keep this book in the car for when you're out on the road, or curl up with it at home and dream about your next journey.     ...Show more
$39.99
AUD
Category: Travel
From lap pools to sea pools, the ocean, waterfalls, hot springs and rockpools, Places We Swim features 60 of the very best swimming spots around Australia. Each destination entry includes information on what makes the swimming spot unique, local knowledge and things to do, see and eat in the area. The t ext is complemented by beautiful photography from some of Australia's most celebrated lifestyle photographers, which will inspire you to see this country in a new light. The book also profiles a range of people from an extreme ocean swimmer to a chef that builds his menu around the sea. This inspirational reference guide will have you returning to the water again and again.  ...Show more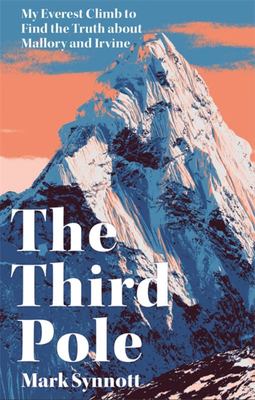 $32.99
AUD
Category: Travel Vicarious
Veteran climber Mark Synnott never planned on climbing Mount Everest, but a hundred-year mystery lured him into an expedition--and an awesome history of passionate adventure, chilling tragedy, and human aspiration unfolded. On June 8, 1924, George Mallory and "Sandy" Irvine set out to stand on the roof of the world, where no one had stood before. They were last seen eight hundred feet shy of Everest's summit. A century later, we still don't know whether they achieved their goal, decades before Sir Edmund Hillary and Tensing Norgay did, in 1953. Irvine carried a Kodak camera with him to record their attempt, but it, along with his body, had never been found. Did Mallory and Irvine reach the summit and take a photograph before they fell to their deaths? Mark Synnott made his own ascent up the infamous North Face along with a filmmaker using drone technology higher than any had previously flown. His goal: to find Irvine's body and the camera he carried that might have held a summit photo on its still-viable film. Synnott's quest led him from oxygen-deprivation training to archives and museums in England, to Kathmandu, the Tibetan High Plateau, and up the North Face into a storm during a season described as the one that broke Everest. An awful traffic jam of climbers at the very summit resulted in tragic deaths. Sherpas revolted. Chinese government agents turned adversarial. An Indian woman crawled her way to safety and survival. Synnott himself went off the safety rope--if he had slipped, no one would have been able to save him--desperate to solve the mystery. A magnificent story a la The Lost City of Z, The Third Pole conveys the miracle of a mountain the world wants to own, and the first explorers who may have done so. ...Show more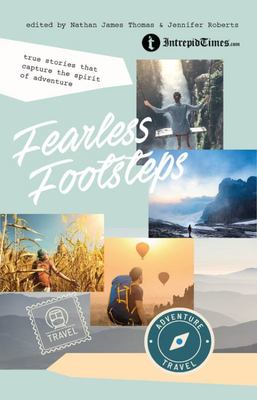 $29.99
AUD
Category: Travel Vicarious
Travelling the world is an exhilarating, eye-opening, life-affirming experience. But it can also be scary to even think about. There are language barriers, borders to cross, planes to fly in, and of course, the mystery of an unknown land. It can be difficult to take the chance, even when you're yearni ng for adventure. This inspirational collection of true travel stories proves that the best journeys are to be had when you feel the fear but go anyway. From a nervous flier anxiously taking to the skies for the first time to a female traveller braving the Middle East, from a death-defying hike on an Indonesian volcano to the anxious freedom of finding yourself alone on the other side of the world, these stories are certain to send you looking for your passport. Created by the popular travel writing website, Intrepid Times, as part of an international writing competition that saw entries pouring in from across the globe, Fearless Footsteps is travel writing at both its most exhilarating and its most introspective. Covering every continent from Africa to Antarctica, these carefully selected stories get to the heart of what it means to be a traveller and see the world with courage, open-mindedness, and relentless curiosity.   ...Show more