$32.99
AUD
Category: Sci-fi & Fantasy
The highly anticipated sequel to the beloved worldwide bestseller Ready Player One, the near-future adventure that inspired the blockbuster Steven Spielberg film.   AN UNEXPECTED QUEST. TWO WORLDS AT STAKE. ARE YOU READY?  Days after winning OASIS founder James Halliday's contest, Wade Watts makes a di scovery that changes everything. Hidden within Halliday's vaults, waiting for his heir to find, lies a technological advancement that will once again change the world and make the OASIS a thousand times more wondrous--and addictive--than even Wade dreamed possible.   With it comes a new riddle, and a new quest -- a last Easter egg from Halliday, hinting at a mysterious prize. And an unexpected, impossibly powerful, and dangerous new rival awaits, one who'll kill millions to get what he wants.   Wade's life and the future of the OASIS are again at stake, but this time the fate of humanity also hangs in the balance.  Lovingly nostalgic and wildly original as only Ernest Cline could conceive it, Ready Player Two takes us on another imaginative, fun, action-packed adventure through his beloved virtual universe, and jolts us thrillingly into the future once again.   ...Show more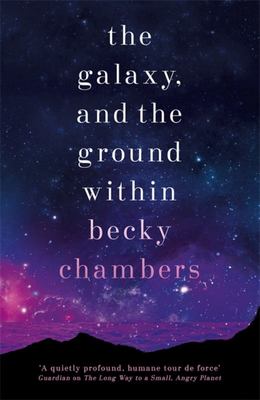 $32.99
AUD
Category: Sci-fi & Fantasy | Series: Wayfarers Ser.
Sunday Times bestselling author Becky Chambers returns to the Galactic Commons in the final installment in her award-winning and critically acclaimed Wayfarers series. With no water, no air, and no native life, the planet Gora is unremarkable. The only thing it has going for it is a chance proximity to more popular worlds, making it a decent stopover for ships traveling between the wormholes that keep the Galactic Commons connected. If deep space is a highway, Gora is just your average truck stop. One of the many establishments present is the Five-Hop One-Stop, a place where long-haul spacers can stretch their legs (if they have legs, that is), and pick up fuel, transit permits, and assorted supplies. The Five-Hop is run by an enterprising alien and her occasionally helpful child, who both work hard to provide a little piece of home to everyone passing through. When a freak technological failure halts traffic to and from Gora, three strangers are thrown together at the Five-Hop. Grounded, and with nothing to do but wait, the trio - an exiled artist with an appointment to keep, a cargo runner at a personal crossroads, and a mysterious individual doing her best to help those on the fringes - are compelled to confront where they've been, where they might go, and what they might be to each other. PRAISE FOR THE WAYFARERS 'Becky Chambers is a wonder, and I feel better for having her books in my life' JOHN CONNOLLY 'In a word, brilliant' ANDREW CALDECOTT 'A quietly profound, humane tour de force' GUARDIAN 'Chambers is simply an exceptional talent'TOR.COM 'Becky Chambers takes space opera in a whole new and unexpected direction' BEN AARONOVITCH ...Show more
Dune
by Frank Herbert
$22.99
AUD
Category: Sci-fi & Fantasy | Series: DUNE
Before The Matrix, before Star Wars, before Ender's Game and Neuromancer, there was Dune: winner of the prestigious Hugo and Nebula awards, and widely considered one of the greatest science fiction novels ever written. Melange, or 'spice', is the most valuable - and rarest - element in the universe; a drug that does everything from increasing a person's life-span to making intersteller travel possible. And it can only be found on a single planet: the inhospitable desert world Arrakis. Whoever controls Arrakis controls the spice. And whoever controls the spice controls the universe. When the Emperor transfers stewardship of Arrakis from the noble House Harkonnen to House Atreides, the Harkonnens fight back, murdering Duke Leto Atreides. Paul, his son, and Lady Jessica, his concubine, flee into the desert. On the point of death, they are rescued by a band for Fremen, the native people of Arrakis, who control Arrakis' second great resource: the giant worms that burrow beneath the burning desert sands. In order to avenge his father and retake Arrakis from the Harkonnens, Paul must earn the trust of the Fremen and lead a tiny army against the innumerable forces aligned against them. And his journey will change the universe. ...Show more
$32.99
AUD
Category: Sci-fi & Fantasy
When Addie LaRue makes a pact with the devil, she trades her soul for immortality. But there's always a price — the devil takes away her place in the world, cursing her to be forgotten by everyone. Addie flees her tiny hometown in 18th Century France, beginning a journey that takes her across the world, learning to live a life where no one remembers her and everything she owns is lost and broken. Existing only as a muse for artists throughout history, she learns to fall in love anew every single day. Her only companion on this journey is her dark devil with hypnotic green eyes, who visits her each year on the anniversary of their deal. Alone in the world, Addie has no choice but to confront him, to understand him, maybe to beat him. Until one day, in a secondhand bookshop in Manhattan, Addie meets someone who remembers her. Suddenly thrust back into a real, normal life, Addie realises she can't escape her fate forever.   ...Show more
$24.99
AUD
Category: Sci-fi & Fantasy
From the bestselling author of Angel Mage, this new fantasy adventure set in 1980s London follows one girl's quest to find her father, leading her to a secret society of magical fighting booksellers who police the mythical Old World when it disastrously intrudes into the modern world. Eighteen-year-old art student Susan Arkshaw arrives in London in search of her father. But before she can question crime boss Frank Thringley he's turned to dust by the prick of a silver hatpin in the hands of the outrageously attractive Merlin. Merlin is one of the youngest members of a secret society of booksellers with magical powers who police the mythic Old World wherever it impinges on the New World - in addition to running several bookshops, of course! Merlin also has a quest of his own: to find the Old World entity who arranged the murder of his mother. Their investigations attract attention from enemies of the Old and New Worlds. Soon they become involved in an even more urgent task to recover the grail that is the source of the left-handed booksellers' power, before it is used to destroy the booksellers and rouse the hordes of the mythic past. As the search for the grail becomes strangely intertwined with both their quests, they start to wonder... Is Susan's long-lost father a bookseller, or something altogether more mysterious? ...Show more
$19.99
AUD
Category: Sci-fi & Fantasy | Series: Crescent City
Think Game of Thrones meets Buffy the Vampire Slayer with a drizzle of E.L. James - Telegraph Perfect for fans of Jessica Jones and True Blood, this is a blockbuster modern fantasy set in a divided world where one woman must uncover the truth to seek her revenge. Half-Fae, half-human Bryce Quinlan love s her life. Every night is a party and Bryce is going to savour all the pleasures Lunathion also known as Crescent City has to offer. But then a brutal murder shakes the very foundations of the city, and brings Bryce's world crashing down. Two years later, Bryce still haunts the city's most notorious nightclubs but seeking only oblivion now. Then the murderer attacks again. And when an infamous Fallen angel, Hunt Athalar, is assigned to watch her every footstep, Bryce knows she can't forget any longer. As Bryce and Hunt fight to unravel the mystery, and their own dark pasts, the threads they tug ripple through the underbelly of the city, across warring continents, and down to the deepest levels of Hel, where things that have been sleeping for millennia are beginning to stir ... With unforgettable characters and page-turning suspense, this richly inventive new fantasy series by #1 New York Times bestselling author Sarah J. Maas delves into the heartache of loss, the price of freedom and the power of love.   ...Show more
Eden
by Tim Lebbon
$18.99
AUD
Category: Sci-fi & Fantasy
From the bestselling author of Netflix's The Silence comes a brand-new horror eco thriller. Earth's rising oceans contain enormous islands of refuse, the Amazon rainforest is all-but destroyed, and countless species edge towards extinction. Humanity's last hope to save the planet lies with The Virgin Z ones, thirteen vast areas of land off-limits to people and given back to nature. Dylan leads a clandestine team of adventure racers, including his daughter Jenn, into Eden, the oldest of the Zones. Jenn carries a secret--Kat, Dylan's wife who abandoned them both years ago, has entered Eden ahead of them. Jenn is determined to find her mother, but neither she nor the rest of their tight-knit team are prepared for what confronts them. Nature has returned to Eden in an elemental, primeval way. And here, nature is no longer humanity's friend. ...Show more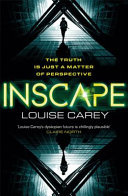 Inscape
by Louise Carey
$32.99
AUD
Category: Sci-fi & Fantasy
Warning: use of this gate will take you outside of the InTech corporate zone. Different community guidelines may apply, and you may be asked to sign a separate end-user license agreement. Do you wish to continue? Tanta has trained all her young life for this. Her very first mission is a code red: to ta ke her team into the unaffiliated zone just outside InTech's borders and retrieve a stolen hard drive. It should have been quick and simple, but a surprise attack kills two of her colleagues and Tanta barely makes it home alive. Determined to prove herself and partnered with a colleague whose past is a mystery even to himself, Tanta's investigation uncovers a sinister conspiracy that makes her question her own loyalties and the motives of everyone she used to trust. ...Show more
$39.99
AUD
Category: Sci-fi & Fantasy | Series: Captain Chase Ser.
Captain Calli Chase races against time to thwart a plot that leaves the fate of humanity hanging in the balance in this new thriller from international bestselling author Patricia Cornwell.In the aftermath of a NASA rocket launch gone terribly wrong, Captain Calli Chase comes face-to-face with her missi ng twin sister--as well as the startling truth of who they really are. Now, a top secret program put in motion years ago has spun out of control, and only Calli can redirect its course.Aided by cutting-edge technologies, the NASA investigator and scientist turned Space Force pilot sets out on a frantic search for the missing link between the sabotaged rocket launch and her predetermined destiny...a search that someone else seems very interested in stopping.From NASA to the Chase family farm, to the White House to distant orbits of space, Calli plays a high-stakes game of hide-and-seek with a cunning and ruthless adversary. One wrong move will unleash cataclysmic consequences reaching far beyond the boundaries of Earth.This heart-pounding Captain Chase thriller from Patricia Cornwell will leave readers desperate for more. ...Show more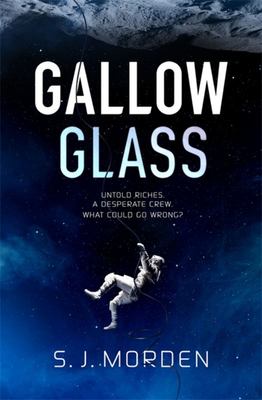 $32.99
AUD
Category: Sci-fi & Fantasy
The year is 2069, and the earth is in flux. Whole nations are being wiped off the map by climate change. Desperate for new resources, the space race has exploded back into life. Corporations seek ever greater profits off-world. They offer immense rewards to anyone who can claim space's resources in the ir name. The bounty on a single asteroid rivals the GDP of entire countries, so every trick, legal or not, is used to win. Jack, the scion of a shipping magnate, is desperate to escape earth and joins a team chasing down an asteroid. But the ship he's on is full of desperate people - each one needing the riches claiming the asteroid will bring them, and they're willing to do anything if it means getting there first. Because in Space, there are no prizes for coming second. It's all or nothing: riches beyond measure, or dying alone in the dark. Praise for ONE WAY: 'A blend of classic mystery, ORANGE IS THE NEW BLACK and Andy Weir's THE MARTIAN, ONE WAY is a science fiction thriller like no other' Waterstones ...Show more
$29.99
AUD
Category: Sci-fi & Fantasy | Series: The Locked Tomb Trilogy
A USA Today Best-Selling Novel "Unlike anything I've ever read." --V.E. Schwab "Lesbian necromancers explore a haunted gothic palace in space" --Charles Stross "Brilliantly original, messy and weird straight through." --NPR The Emperor needs necromancers. The Ninth Necromancer needs a swordswoman. G ideon has a sword, some dirty magazines, and no more time for undead nonsense. Tamsyn Muir's Gideon the Ninth, first in The Locked Tomb Trilogy, unveils a solar system of swordplay, cut-throat politics, and lesbian necromancers. Her characters leap off the page, as skillfully animated as arcane revenants. The result is a heart-pounding epic science fantasy. Brought up by unfriendly, ossifying nuns, ancient retainers, and countless skeletons, Gideon is ready to abandon a life of servitude and an afterlife as a reanimated corpse. She packs up her sword, her shoes, and her dirty magazines, and prepares to launch her daring escape. But her childhood nemesis won't set her free without a service. Harrowhark Nonagesimus, Reverend Daughter of the Ninth House and bone witch extraordinaire, has been summoned into action. The Emperor has invited the heirs to each of his loyal Houses to a deadly trial of wits and skill. If Harrowhark succeeds she will be become an immortal, all-powerful servant of the Resurrection, but no necromancer can ascend without their cavalier. Without Gideon's sword, Harrow will fail, and the Ninth House will die. Of course, some things are better left dead. THE LOCKED TOMB TRILOGY BOOK 1: Gideon the Ninth BOOK 2: Harrow the Ninth BOOK 3: Alecto the Ninth ...Show more
$29.99
AUD
Category: Sci-fi & Fantasy | Series: The\Bone Season Ser.
Paige Mahoney has eluded death again. Snatched from the jaws of captivity and consigned to a safe house in the Scion Citadel of Paris, she finds herself caught between those factions that seek Scion's downfall and those who would kill to protect the Rephaim's puppet empire. The mysterious Domino Program me has plans for Paige, but she has ambitions of her own in this new citadel. With Arcturus Mesarthim her former enemy at her side, she embarks on an adventure that will lead her from the catacombs of Paris to the glittering hallways of Versailles. Her risks promise high reward- the Parisian underworld could yield the means to escalate her rebellion to outright war. As Scion widens its bounds and the free world trembles in its shadow, Paige must fight her own memories after her ordeal at the hands of Scion. Meanwhile, she strives to understand her bond with Arcturus, which grows stronger by the day. But there are those who know the revolution began with them and could end with them . . . ...Show more