$24.99
AUD
Category: Philosophy
The first authoritative and accessible single-volume history of philosophy to cover both Western and Eastern traditions, from one of the world's most eminent thinkers The story of philosophy is an epic tale, spanning civilizations and continents. It explores some of the most creative minds in history. But not since the long-popular classic Bertrand Russell's A History of Western Philosophy, published in 1945, has there been a comprehensive and entertaining single-volume history of this great, intellectual, world-shaping journey. With characteristic clarity and elegance, A. C. Grayling takes the reader from the worldviews and moralities before the age of the Buddha, Confucius, and Socrates through Christianity's capture of the European mind, from the Renaissance and Enlightenment on to Mill, Nietzsche, Sartre and, finally, philosophy today. Bringing together these many threads that all too often run parallel, he surveys in tandem the great philosophical traditions of India, China and the Persian-Arabic world. Perfect for students and revelatory to enthusiasts of philosophy, Grayling's narrative dramatizes the interchange between and within eras and epochs, asking what we have learned, but also what progress is still to be made. Destined to be his magnum opus, and astonishing in its range and accessibility, this is a landmark work. ...Show more
$16.99
AUD
Category: Philosophy
A prominent Viennese psychiatrist before the war, Viktor Frankl was uniquely able to observe the way that he and other inmates coped with the experience of being in Auschwitz. He noticed that it was the men who comforted others and who gave away their last piece of bread who survived the longest - and w ho offered proof that everything can be taken away from us except the ability to choose our attitude in any given set of circumstances.The sort of person the prisoner became was the result of an inner decision and not of camp influences alone. Only those who allowed their inner hold on their moral and spiritual selves to subside eventually fell victim to the camp's degenerating influence - while those who made a victory of those experiences turned them into an inner triumph.Frankl came to believe that man's deepest desire is to search for meaning and purpose. This outstanding work offers us all a way to transcend suffering and find significance in the art of living. ...Show more
$26.99
AUD
Category: Philosophy | Series: Penguin Modern Classics Ser.
The Foucault Reader is the ideal introduction to one the most stimulating and influential writers of the past century. It includes detailed excerpts from all his richly textured historical studies - including Discipline and Punish and The History of Sexuality - as well as many of his best interviews. ...Show more
$26.99
AUD
Category: Philosophy | Series: Penguin Modern Classics Ser.
Ethics is taken from the highly influential series of courses Foucault taught at the College de France from 1970 to 1982. This volume also includes a selection of engaging and unusually candid interviews, as well as excerpts from Foucault's key writing on ethics.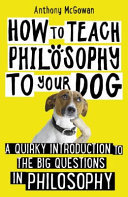 $22.99
AUD
Category: Philosophy
We're doing philosophy now, and that means following the argument wherever it leads, like that time you chased a rabbit and ended up with your head stuck in a hole.'Monty was just like any other dog. A scruffy and irascible Maltese terrier, he enjoyed barking at pugs and sniffing at trees. But after yet another dramatic confrontation with the local Rottweiler, Anthony McGowan realises it's high time he and Monty had a chat about what makes him a good or a bad dog.Taking his lead from Monty's canine antics, McGowan takes us on a hilarious and enlightening jaunt through the major debates of philosophy. Will Kant convince Monty to stop stealing cheesecake? How long will they put up with Socrates poking holes in every argument? In this uniquely entertaining take on morality and ethics, the dutiful duo set out to uncover who if anyone has the right end of the ethical stick and can tell us how best to live one's life. ...Show more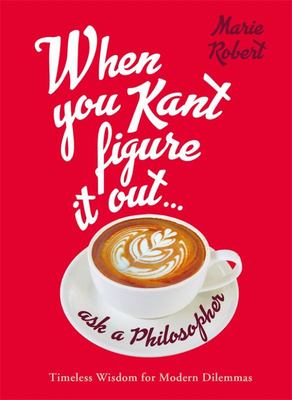 $26.99
AUD
Category: Philosophy
How can Kant comfort you when you get dumped via text message? How can Aristotle cure your hangover? How can Heidegger make you feel better when your dog dies? When You Kant Figure It Out, Ask a Philosopher explains how pearls of wisdom from the greatest Western philosophers can help us face and make li ght of some of the daily challenges of modern life. In twelve clever, accessible chapters, you'll get advice from Epicurus about how to disconnect from constant news alerts and social media updates, Nietzsche's take on getting in shape, John Stuart Mill's tips for handling bad birthday presents, and many other ancient pearls of wisdom to help you navigate life today. Hilarious, practical, and edifying, When You Kant Figure It Out, Ask a Philosopher brings the best thinkers of the past into the 21st Century to help us all make sense of a chaotic new world. ...Show more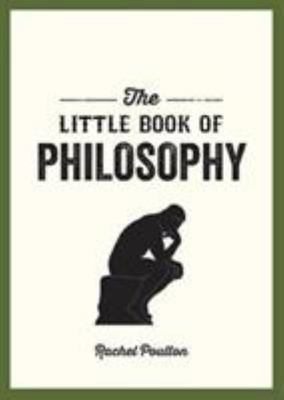 $16.99
AUD
Category: Philosophy
If you want to know your Socrates from your Sartre and your Confucius from your Kant, strap in for this whirlwind tour of the highlights of philosophy. Including accessible primers on: The early Ancient Greek philosophers and the 'big three': Socrates, Plato and Aristotle Key schools of philosophy a nd their impact on modern life Insights into the main questions philosophers have explored over the years: Who am I? What is the meaning of life? Do I have free will? Practical applications for the theories of Descartes, Kant, Wollstonecraft, Marx, Nietzsche and many more. This illuminating little book will introduce you to the key thinkers, themes and theories you need to know to understand how human ideas have sculpted the world we live in and the way we think today. ...Show more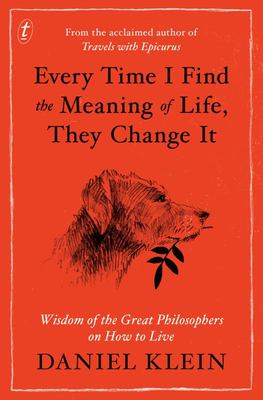 $22.99
AUD
Category: Philosophy
A humorous and philosophical trip through life, from the acclaimed author of Travels with Epicurus. As a young college student studying philosophy, Daniel Klein filled a notebook with short quotes from the world's greatest thinkers, hoping to find some guidance on how to live the best life he could. Now , from the vantage point of his eighth decade, Klein revisits the wisdom he relished in his youth with this collection of philosophical gems, adding new ones that strike a chord. From Epicurus to Emerson and Marcus Aurelius to Peter Singer, each pithy extract is annotated with Klein's inimitable charm and insights. He tackles life's biggest questions, leaving us entertained and enlightened. ...Show more
$12.99
AUD
Category: Philosophy | Series: Popular Penguins Ser.
Winner of the 1964 Nobel Prize for Literature, Jean-Paul Sartre, French philosopher, critic, novelist, and dramatist, holds a position of singular eminence in the world of letters. Among readers and critics familiar with the whole of Sartre's work, it is generally recognized that his earliest novel, La Nausée (first published in 1938), is his finest and most significant. It is unquestionably a key novel of the twentieth century and a landmark in Existentialist fiction. Nausea is the story of Antoine Roquentin, a French writer who is horrified at his own existence. In impressionistic, diary form he ruthlessly catalogues his every feeling and sensation. His thoughts culminate in a pervasive, overpowering feeling of nausea which "spreads at the bottom of the viscous puddle, at the bottom of our time--the time of purple suspenders and broken chair seats; it is made of wide, soft instants, spreading at the edge, like an oil stain." Roquentin's efforts to come to terms with life, his philosophical and psychological struggles, give Sartre the opportunity to dramatize the tenets of his Existentialist creed. ...Show more
$12.99
AUD
Category: Philosophy | Series: Popular Penguins Ser.
Alain de Botton has performed a stunning feat: he has transformed arcane philosophy into something accessible and entertaining, useful and kind. Drawing on the work of six of the world's most brilliant thinkers, de Botton has arranged a panoply of wisdom to guide us through our most common problems. Fro m the frustration of misplacing your keys to the sadness of losing a loved one, the writings of Seneca can offer consolation. For the agony of not having enough money, Epicurus has a solution that everyone can afford. If your life is beset by difficulty after difficulty, wise advice may be found in the words of Nietzsche. The Consolations of Philosophy is smart, lucid, and pleasing, a rare sort of book that wonderfully fulfills the promise of its title. ...Show more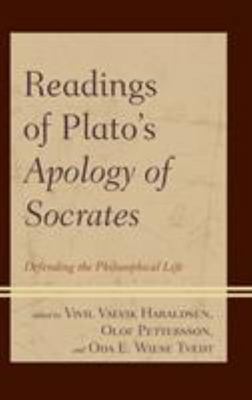 $70.99
AUD
Category: Philosophy
In Plato's Apology of Socrates we see a philosopher in collision with his society-a society he nonetheless claims to have benefited through his philosophic activity. It has often been asked why democratic Athens condemned a philosopher of Socrates' character to death. This anthology examines the contrib ution made by Plato's Apology of Socrates to our understanding of the character of Socrates as well as of the conception of philosophy Plato attributes to him. The 11 chapters offer complementary readings of the Apology, which through their different approaches demonstrate the richness of this Platonic work as well as the various layers that can be discerned in its presentation of Socrates. While the contributions display variety in both topics and angles, they also share common features: An awareness of the importance of the literary aspects of Plato's courtroom drama, as well as a readiness to take into consideration the historical context of the work. Thereby they provide contributions to a manifold understanding of the aims and impact of the work, without losing sight of the philosophical questions that are raised by Socrates' confrontational and unrepentant defense speech. Allowing the character of Socrates to take center stage, the chapters of this volume examine the philosopher in relation to ethics, and to politics and democracy, as well as to the ideology, religion, and virtue shared by the Athenians. Readers will also find reflections on classical Platonic subjects such as the nature of Socratic philosophical inquiry and of philosophy itself, as well as on the notoriously ambiguous relationships between philosophy, sophistry and rhetoric, and their several relationships to truth and justice. The anthology emphasizes and explores the equivocal and sometimes problematic aspects of Socrates as Plato presents him in the Apology, illuminating why the Athenians let the verdict fall as they did, while drawing out problematic features of Athenian society and its reaction to Socrates' philosophic activity, thereby encouraging reflection on the role philosophy can play in our modern societies. ...Show more
$26.99
AUD
Category: Philosophy
A collection of essays by fourteen philosophers presenting a thoughtful, introductory guide to choosing a philosophy for living an examined and meaningful life. Socrates famously said "the unexamined life is not worth living," but what does it mean to truly live philosophically? This thought-provoki ng, wide-ranging collection brings together essays by fifteen leading philosophers reflecting on what it means to live according to a philosophy of life. From Eastern philosophies (Daoism, Confucianism, and Buddhism), to classical Western philosophies (such as Aristotelianism and Stoicism), to the four major religions, as well as contemporary philosophies (such as existentialism and effective altruism), each contributor offers a lively, personal account of how they find meaning in the practice of their chosen philosophical traditions. Together, the pieces in How to Live a Good Life provide not only a beginner's guide to choosing a life philosophy but also a timely portrait of what it means to live an examined life in the twenty-first century. ...Show more