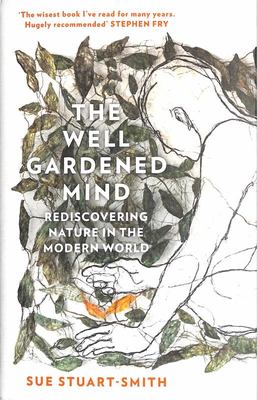 $49.99
AUD
Category: Gardening
Those who work with the earth have known for years: there's a miraculous quality to gardening. In a mix of psychology, neuroscience and stories from around the world, Sue Stuart-Smith breaks ground to explore the power of interacting with nature, and how the garden can prove a vital place to cultivate t he mind. The garden has always been a place of peace and perseverance, of nurture and reward. A garden can provide a family's food, a child's playground, an adult's peaceful retreat. But around the world and throughout history, gardens have often meant something more profound. For Sue Stuart-Smith's grandfather, returning from the First World War weighing six stone, a year-long horticulture course became a life raft for recovering from the trauma. For prisoners in today's justice system, gardening can be a mental escape from captivity which offers, in a context when opportunity is scarce, the chance to take ownership of a project and build something positive up from seed. In The Well Gardened Mind, Sue Stuart-Smith investigates the huge power of the garden and its little-acknowledged effects on health and wellbeing. Using contemporary neuroscience, psychoanalysis and compelling real-life stories, she argues that the garden is an intrinsically hopeful place and gardening is a powerful reflective activity. When we enter into the rhythms of growth, decay and regeneration, and the rituals of planting, tending, and working physically with the earth, we are also gardening our minds and exercising our thinking. In a world where research shows the average child spends less time outside each week than a maximum-security prisoner, we need to understand the value of the outside world, and the tremendous benefit it can give. There are already horticultural projects dedicated to helping mental health, addiction, asylum seekers new to Britain, and PTSD. In this glorious book of science, insight and anecdote, Stuart-Smith shows our understanding of nature and its recuperative powers is only just beginning to flower. thing positive up from seed. In The Well Gardened Mind, Sue Stuart-Smith investigates the huge power of the garden and its little-acknowledged effects on health and wellbeing. Using contemporary neuroscience, psychoanalysis and compelling real-life stories, she argues that the garden is an intrinsically hopeful place and gardening is a powerful reflective activity. When we enter into the rhythms of growth, decay and regeneration, and the rituals of planting, tending, and working physically with the earth, we are also gardening our minds and exercising our thinking. In a world where research shows the average child spends less time outside each week than a maximum-security prisoner, we need to understand the value of the outside world, and the tremendous benefit it can give. There are already horticultural projects dedicated to helping mental health, addiction, asylum seekers new to Britain, and PTSD. In this glorious book of science, insight and anecdote, Stuart-Smith shows our understanding of nature and its recuperative powers is only just beginning to flower. shows our understanding of nature and its recuperative powers is only just beginning to flower. ...Show more
$24.99
AUD
Category: Gardening
'The wisest book I've read for many years ... Much more than a gardening book, much more than a guide to mental health ... Hugely recommended' Stephen Fry THE SUNDAY TIMES BESTSELLER How can getting outdoors help us to look after our mental health? In a powerful combination of contemporary neuroscien ce, psychoanalysis and brilliant storytelling, The Well Gardened Mind investigates the magic that many gardeners have known for years - working with nature can radically transform our health, wellbeing and confidence. Prisoners given the chance to grow plants are less likely to reoffend. At-risk young people who get their hands in the soil are more likely to stay in education. Elderly people who garden live longer and have a better quality of life. Sue Stuart-Smith tells brilliant, illuminating stories of people struggling with stress, depression, trauma and addiction, from asylum seekers to veterans, inner-city young people to the retired. This is a glorious book of science, insight and anecdote that shows how our understanding of nature and its restorative powers is only just beginning to flower. 'An important and timely book ... Beautifully written, drawing on a lifetime's experience as both a clinician and a gardener, and I urge everyone to read it' MONTY DON 'Riveting, inspiring and often very moving ... A lively, compassionate exhortation for us all to get our hands back in the soil' ISABELLA TREE 'A compelling and deeply moving account of how profoundly our wellbeing can be affected through contact with gardening and the natural world ... Read it' EDMUND DE WAAL ...Show more
$35.00
AUD
Category: Gardening
 While most Australians live in capital cities, at one time or another we all covet the charm and slower pace of country living. But if a tree change isn't feasible for suburbanites, why not combine the best of both worlds at home? My Suburban Farm is a gorgeous guide to bringing the rustic romance, cra ft aesthetic and home-grown joy of rural life into your very own suburban nook.From the meditative delights of craft to the satisfaction of growing and cooking your veggies, this book celebrates everything handmade, home-grown and heart-warming. Ainslee Costa, creator of the popular My Suburban Farm Instagram account, shares her tips and tricks on everything from candle-making to pottery, hunting for vintage wares to keeping chickens. With My Suburban Farm you'll learn to bring the simple pleasures of the country into any space.   ...Show more
$80.00
AUD
Category: Gardening
Photographed across all four seasons, The Garden State showcases the finest private gardens of Victoria from all angles, highlighting the diversity of each region. Chapters cover a range of garden types, including Rural Estates, Hill Stations, Climate Conscious gardens, Coastal Retreats and Old Curiosit ies, and cover the history of each garden, how it works within the landscape and what measures have been taken to adjust to or cope with environmental conditions.   ...Show more

The Gardener's Garden - Midi Format
by Toby Musgrave (Contribution by); Ruth Chivers (Contribution by); Madison Cox (Introduction by)
$49.95
AUD
Category: Gardening
The ultimate celebration of the world's most gorgeous gardens - now with a fresh, new look This internationally bestselling inspirational resource for garden lovers and designers sports a gorgeous new cover design - bringing the book's winning blend of authority and visual appeal to a wider-than-ever a udience. The Gardener's Gardenspans seven centuries to spotlight more than 250 of the globe's finest permanent gardens by leading garden designers, horticulturalists, and landscape architects, brought to life via more than 1,000 sumptuous photographs and in descriptive texts by leading garden writers. ...Show more
$54.99
AUD
Category: Gardening
A distinguished psychiatrist and avid gardener offers an inspiring and consoling work about the healing effects of gardening and its ability to decrease stress and foster mental well-being in our everyday lives.   The garden is often seen as a refuge, a place to forget worldly cares, removed from the " real" life that lies outside. But when we get our hands in the earth we connect with the cycle of life in nature through which destruction and decay are followed by regrowth and renewal. Gardening is one of the quintessential nurturing activities and yet we understand so little about it. The Well-Gardened Mind provides a new perspective on the power of gardening to change people's lives. Here, Sue Stuart-Smith investigates the many ways in which mind and garden can interact and explores how the process of tending a plot can be a way of sustaining an innermost self.   Stuart-Smith's own love of gardening developed as she studied to become a psychoanalytic psychotherapist. From her grandfather's return from World War I to Freud's obsession with flowers to case histories with her own patients to progressive gardening programs in such places as Rikers Island prison in New York City, Stuart-Smith weaves thoughtful yet powerful examples to argue that gardening is much more important to our cognition than we think. Recent research is showing how green nature has direct antidepressant effects on humans. Essential and pragmatic, The Well-Gardened Mind is a book for gardeners and the perfect read for people seeking healthier mental lives. ...Show more
$19.99
AUD
Category: Gardening
Popular columinist, broadcaster and landscape gardener Sabrina Hahn has written a pocket-sized guide jam-packed with handy hints about gardening. Drawing on years of experience, Sabrina has tips on how to care for our most popular plants while avoiding common pitfalls.
$70.00
AUD
Category: Gardening
The Australian garden was born mid-century, a time of postwar confidence and growing national identity. Gardens became outdoor rooms for recreation and healthy living - removing the barriers between inside and out - and bold designs celebrated native Australian plants. The mid-century modern aesthetic has seen a revival in recent years, with contemporary garden designers reinterpreting the optimism, innovation and independence of that era. The gardens in Living Outside speak to an Australia that draws on the confidence of the last century while pushing the boundaries of experimentation, all to rise to the environmental and social challenges of today. The featured projects embrace their unique surrounding landscapes, from coastal cliffs and expansive grassland to tropical forest and even urban neighbourhoods. They also reflect a return to modernism - not just the look and feel, but also the functionality and values of invention, conservation, wellbeing.These gardens are more than just ornamental backdrops: they provide shade for neighbourhoods, food for pollinating insects, habitat for wildlife, hubs for both social interaction and moments of respite. They are platforms for research into resilient futures, experiments in sustainability and places for families to grow. They have been designed in response to their contexts and exemplify the singular and joyous spaces that can result from a deep appreciation of place.   ...Show more
$59.99
AUD
Category: Gardening
Paul Bangay's celebrated Victorian property, Stonefields, has now been under his expert care for 15 years. Today, his vision is complete and the garden is mature and more beautiful than ever. In this new book, Paul takes the reader through the changing seasons to highlight different aspects of the garde n and the trusted design and planting principles he has applied at Stonefields. From the vibrant autumn colours in the woodland, to the jubilant flowering of the crab apple trees in October and the harvesting of vegetables in the summer, this is a delightful and exquisitely photographed journey through the garden that tells the story of its evolution since The Garden at Stonefields was published in 2013. Sharing practical advice, too, Paul explains the gardener's essential quarterly tasks as well as his favourite and recommended plants for each season. But this is also a beautiful book of reflection on a much-loved garden to which a gardener has dedicated many years of time and care. Looking back on all he has achieved in this treasured space, Paul muses on creativity, achievements and disappointments, the human connection to the changing Australian landscape and the inevitabilities of change and the passage of time. More than just an intimate tour around Stonefields today, this book is an invitation to reflect on the meaning and rich rewards of gardening itself.   ...Show more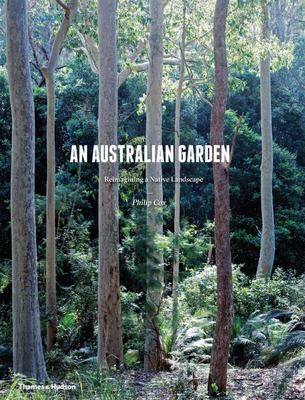 $70.00
AUD
Category: Gardening
The far south coast of New South Wales is a magical place, with remote coastlines, sheltered lagoons and pristine hinterland meeting mountain ranges. It was also once an area partly depleted by logging and long-term agricultural use. Some forty years ago, renowned architect Philip Cox and a group of lik e-minded friends purchased 80 hectares as a private retreat and a conservation exercise. Applying his own aesthetic principles of vista, light, texture, colour and mass, Philip worked with nature to reveal and enhance the bushland in an enticing way. He replanted trees in denuded areas, cleared scrubby undergrowth in others and added lakes and ponds. Carefully, he curated extensive walks through bush and gullies, along the coast and river, offering wondrous experiences. These walks are punctuated with drama and romance as you enter various garden rooms and encounter sculptures, waterlily-adorned lakes, ponds and art-filled pavilions.As the world becomes more global, maintaining indigenous Australian landscapes and gardens becomes important. This book captures a unique vision of a wild landscape and gives new meaning to the concept of creating an Australian garden. ...Show more
$65.00
AUD
Category: Gardening
Gardens can be formal or wild, serene or ostentatious, native or exotic, colourful or monochrome —according to Trisha Dixon, if we like a person, we will probably like their garden In a series of written reflections, interwoven with her evocative, painterly photographs, Trisha explores the relationship that exists between ourselves, our gardens and the natural landscape. Beyond the design and the plants, there is the feel of the garden, which captures the heart from the moment you enter a landscape and stays with you long after you have left. In a chapter on Gardens of the Mind, Trisha explores how artists, thinkers and writers have acknowledged and found value in the spirit of gardens and landscapes. Socrates found truth and beauty beyond Athens' city walls in a sacred grove. Closer to home, Jorn Utzon, designer of Sydney's Opera House sought inspiration and solace in a sandstone beach cave and Arthur Boyd experienced the Shoalhaven as a Wagnerian opera or a Mozart symphony. In Our Ancient Land, Trisha writes about landscapes full of stories, songlines and tracks. She welcomes the shift away from an Anglocentric approach to landscape design to one that shows an intimate engagement with the spirit of place, an acknowledgement of the Aboriginal history and mythology embedded in the land. This is not just to be found in the ancient heart of the country. In Melbourne's Royal Park, for example, bounded by noisy traffic and high-rise buildings, landscape designer Gordon Ford has created a bush pool that you'd feel fortunate to find in the interior of the Kimberley.Her message is the need to understand and respect the environment in our garden making. By approaching nature with humility, rather than a desire to control it, we can make our gardens places of beauty and peace, which nurture body and soul. She explains different approaches to garden design, exploring the teachings of landscape architects and designers of renown. And she frames this in the context of a harsh and changing climate that we need to embrace. Full-colour photographs show the golden glow of seed heads, a Eucalypt reflected in a still pool, magnificent angophoras and mossy outcrops in an escarpment garden on Sydney's Northern Beaches. Here is Annie Snodgrass' Jilba garden in Young, bursting with a Mediterranean palette of greens, purples and white. Here is Philip Cox's South Coast retreat, showing a total harmony of landscape and understated, rustic architecture. ...Show more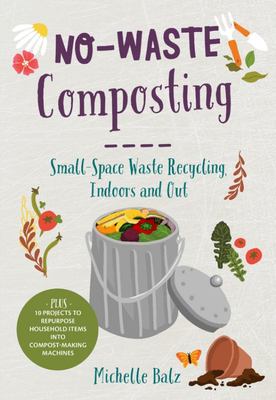 $29.99
AUD
Category: Gardening | Series: No-Waste Gardening Ser.
No-Waste Composting includes step-by-step plans for multiple small-scale indoor and outdoor composting systems that turn repurposed household items into containment systems for composting kitchen scraps and yard waste.