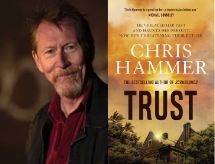 Chris Hammer - Trust
Stanton Library Online Event
Wednesday 14th October 2020 at 6.30pm
In collaboration with NSW Public Libraries and The Constant Reader Bookshop we are pleased to present an online event featuring the author Chris Hammer.
A twisting tale of intrigue and danger set in a Sydney riven with corruption and nepotism, privilege and power. Trust is the third riveting novel in the Martin Scarsden series from award-winning and internationally acclaimed writer Chris Hammer.
Bookings are essential and information about the webinar will be emailed to you before the date.