Author(s): Belinda Alexandra
Share
She had thought Shipwreck Bay was simply a remote town where people were bored senseless with their little lives. Now she saw its virtuous facade hid something darker, more sinister. Rebecca Wood is ready for a quiet life as the new postmistress of a sleepy seaside town. Fleeing a scandal and haunted by her past, Rebecca is now determined to make different choices.Soon she is being courted by the dashing local doctor and a bright future beckons. But in such a small community, there is nowhere to hide from prying eyes. And before long she is caught up in the dangerous mysteries that hide behind Shipwreck Bay's respectable net curtains.
EVENT
Belinda Alexander - The Mystery Woman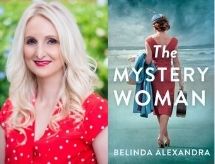 Belinda will be giving a online talk for Stanton Library on Tuesday at 6.30pm. Bookings are essential.
For more information click the link below