MOSMAN BEST SELLERS
Below are our current Best Sellers to February 28 2021. In the interest of fairness they are not listed in order!
Enjoy!
$32.99
AUD
Category: Crime
'A little beacon of pleasure...SUCH FUN!'- KATE ATKINSON. THE FIRST BOOK IN THE GRIPPING THURSDAY MURDER CLUB SERIES BY TV PRESENTER RICHARD OSMA. In a peaceful retirement village, four unlikely friends meet up once a week to investigate unsolved murders. But when a brutal killing takes place on their very doorstep, the Thursday Murder Club find themselves in the middle of their first live case. Elizabeth, Joyce, Ibrahim and Ron might be pushing eighty but they still have a few tricks up their sleeves. Can our unorthodox but brilliant gang catch the killer before it's too late?    ...Show more
$35.00
AUD
Category: Gift Books
The Sunday Times Bestseller and New York Times Bestseller. A book of hope for uncertain times. 'Feeling a little blue? Meet the new Winnie the Pooh.' The Daily Mail 'A wonderful work of art and a wonderful window into the human heart' Richard Curtis Enter the world of Charlie's four unlikely friends, di scover their story and their most important life lessons. The conversations of the boy, the mole, the fox and the horse have been shared thousands of times online, recreated in school art classes, hung on hospital walls and turned into tattoos. In Charlie's first book, you will find his most-loved illustrations and some new ones too.     ...Show more
$34.99
AUD
Category: Non-Fiction
From the bestselling author Simon Winchester, a human history of land around the world: who mapped it, owned it, stole it, cared for it, fought for it and gave it back. The ownership of land has always been complicated, opaque, and more than a little anarchic when viewed from the outside. In this book, Simon Winchester explores the the stewardship of land, the ways it is delineated and changes hands, the great disputes, and the questions of restoration – particularly in the light of climate change and colonialist reparation. A global study, this is an exquisite exploration of what the ownership of land might really mean – not in dry-as-dust legal terms, but for the people who live on it. ...Show more
$32.99
AUD
Category: Fiction
The highly anticipated new novel by the bestselling author of Jasper Jones. 'Find out who you are, and live that life.' Late in the night, fourteen-year-old Sam Watson steps onto a quiet overpass, climbs over the rail and looks down at the road far below. At the other end of the same bridge, an old man, Vic, smokes his last cigarette. The two see each other across the void. A fateful connection is made, and an unlikely friendship blooms. Slowly, we learn what led Sam and Vic to the bridge that night. Bonded by their suffering, each privately commits to the impossible task of saving the other. Honeybee is a heartbreaking, life-affirming novel that throws us headlong into a world of petty thefts, extortion plots, botched bank robberies, daring dog rescues and one spectacular drag show. At the heart of Honeybee is Sam: a solitary, resilient young person battling to navigate the world as their true self; ensnared by loyalty to a troubled mother, scarred by the volatility of a domineering stepfather, and confounded by the kindness of new alliances. Honeybee is a tender, profoundly moving novel, brimming with vivid characters and luminous words. It's about two lives forever changed by a chance encounter - one offering hope, the other redemption. It's about when to persevere, and when to be merciful, as Sam learns when to let go, and when to hold on. ...Show more
$22.99
AUD
Category: Fiction
#1 New York Times Bestseller A Reese Witherspoon Hello Sunshine Book Club Pick "I can't even express how much I love this book I didn't want this story to end " - Reese Witherspoon "Painfully beautiful." - The New York Times Book Review "Perfect for fans of Barbara Kingsolver." - Bustle For years, rumor s of the "Marsh Girl" have haunted Barkley Cove, a quiet town on the North Carolina coast. So in late 1969, when handsome Chase Andrews is found dead, the locals immediately suspect Kya Clark, the so-called Marsh Girl. But Kya is not what they say. Sensitive and intelligent, she has survived for years alone in the marsh that she calls home, finding friends in the gulls and lessons in the sand. Then the time comes when she yearns to be touched and loved. When two young men from town become intrigued by her wild beauty, Kya opens herself to a new life - until the unthinkable happens. Perfect for fans of Barbara Kingsolver and Karen Russell, Where the Crawdads Sing is at once an exquisite ode to the natural world, a heartbreaking coming-of-age story, and a surprising tale of possible murder. Owens reminds us that we are forever shaped by the children we once were, and that we are all subject to the beautiful and violent secrets that nature keeps. ...Show more
$32.99
AUD
Category: Fiction
Booker Prize Winner 2020. It is 1981. Glasgow is dying and good families must grift to survive. Agnes Bain has always expected more from life. She dreams of greater things: a house with its own front door and a life bought and paid for outright (like her perfect, but false, teeth). But Agnes is abando ned by her philandering husband, and soon she and her three children find themselves trapped in a decimated mining town. As she descends deeper into drink, the children try their best to save her, yet one by one they must abandon her to save themselves. It is her son Shuggie who holds out hope the longest. Shuggie is different. Fastidious and fussy, he shares his mother's sense of snobbish propriety. The miners' children pick on him and adults condemn him as no' right. But Shuggie believes that if he tries his hardest, he can be normal like the other boys and help his mother escape this hopeless place. Douglas Stuart's Shuggie Bain lays bare the ruthlessness of poverty, the limits of love, and the hollowness of pride. A counterpart to the privileged Thatcher-era London of Alan Hollinghurst's The Line of Beauty, it also recalls the work of Édouard Louis, Frank McCourt, and Hanya Yanagihara. It is a blistering debut by a brilliant novelist with a powerful and important story to tell.   ...Show more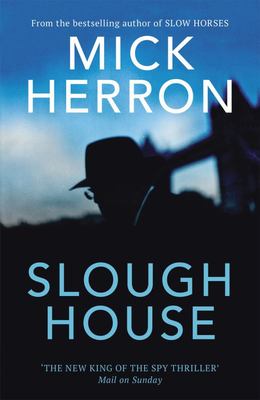 $32.99
AUD
Category: Crime | Series: Slough House Thriller Ser.
*Soon to be a TV series starring Oscar-award winning actor Gary Oldman as Jackson Lamb* 'The best thriller writer in Britain today' Daily Express 'As a master of wit, satire, insight... Herron is difficult to overpraise' Daily Telegraph 'The greatest comic writer of spy fiction in the English languag e' The Times 'Kill us? They've never needed to kill us,' said Lamb. 'I mean, look at us. What would be the point?' A year after a calamitous blunder by the Russian secret service left a British citizen dead from novichok poisoning, Diana Taverner is on the warpath. What seems a gutless response from the government has pushed the Service's First Desk into mounting her own counter-offensive - but she's had to make a deal with the devil first. And given that the devil in question is arch-manipulator Peter Judd, she could be about to lose control of everything she's fought for. Meanwhile, still reeling from recent losses, the slow horses are worried they've been pushed further into the cold. Slough House has been wiped from Service records, and fatal accidents keep happening. No wonder Jackson Lamb's crew are feeling paranoid. But have they actually been targeted? With a new populist movement taking a grip on London's streets, and the old order ensuring that everything's for sale to the highest bidder, the world's an uncomfortable place for those deemed surplus to requirements. The wise move would be to find a safe place and wait for the troubles to pass. But the slow horses aren't famed for making wise decisions. And with enemies on all sides, not even Jackson Lamb can keep his crew from harm. ...Show more
$29.99
AUD
Category: Fiction
A gripping debut thriller based on the real-life experiences of a former French intelligence operative. Alec de Payns is an operative in the secretive Y Division of the DGSE, France's famed foreign intelligence service. He's the agent at the sharp end of clandestine missions, responsible for eliminatin g terror threats and disrupting illegal nuclear and biological weapons programs. The element the missions have in common is danger - danger to de Payns, to his team and to those who stand in his way. But increasingly it's not just the enemies of France that are being damaged by de Payns' actions. His marriage is under strain, and at the back of his mind lurks the fear that haunts every operative with a family - what if they come after my children? When a routine mission in Palermo to disrupt a terrorist organisation goes fatally wrong, Alec is forced to confront the possibility that they may have been betrayed by a fellow operative. And now he's been tasked to investigate a secretive biological weapons facility in Pakistan. Alec must find out how they're producing a weaponised bacteria capable of killing millions, and what they plan to do with it. But with a traitor in the ranks, it's not just Alec in the firing line. Soon he'll be forced to confront his worst fear - and the potential destruction of Paris itself. This is fiction, but based on the experiences of a real French spy. The knowledge and tradecraft that lie behind Jack Beaumont's taut plotting and brilliant eye for detail enliven every page, making The Frenchman all the more plausible, and all the more frightening. ...Show more
$32.99
AUD
Category: Fiction
Spiky, sharp, intriguingly dark and tender, full of pathos, fury and wit, Sorrow and Bliss by Meg Mason is a dazzling, distinctive novel from a boldly talented writer. For fans of Sally Rooney, Taffy Brodesser-Akner and Fleabag. This novel is about a woman called Martha. She knows there is something wr ong with her but she doesn't know what it is. Her husband Patrick thinks she is fine. He says everyone has something, the thing is just to keep going. Martha told Patrick before they got married that she didn't want to have children. He said he didn't mind either way because he has loved her since he was fourteen and making her happy is all that matters, although he does not seem able to do it. By the time Martha finds out what is wrong, it doesn't really matter anymore. It is too late to get the only thing she has ever wanted. Or maybe it will turn out that you can stop loving someone and start again from nothing - if you can find something else to want.   ...Show more
Items per page:
1 - 9 of 9